Ladies, it's recap time!


I'm sooo excited to fill you guys in on our trip to Cancun! We had an amazing time & I would highly recommend our resort to anyone! We stayed at Secrets Resort on Maroma Beach in Cancun, Mexico.
The beaches were just gorgeous, and the resort was top notch.
Umm... is that a bed? yep!


Jason works in the tire business, and each year one of his distributors sends us on a trip. [yayuh!]They usually pick the best places & the majority of time they are all inclusive resorts, which is nice.
However, we have had some trips booked by another distributor that were not all inclusive resorts. While still nice, I really prefer the all inclusive. Those poolside drinks & all that food adds up quick!
Tried to take this badboy ourselves... haha he had to hold the camera & I had to press the button!

Here is what our room looked like at Secrets. I'm pretty sure all rooms are the same layout, but if you're lucky enough to get the first floor you get a 'swim up' room, meaning you can literally walk out of your sliding door and into the water. Crazy! We got a room on the 3rd floor & we really enjoyed our view overlooking the pool, palm trees & the ocean.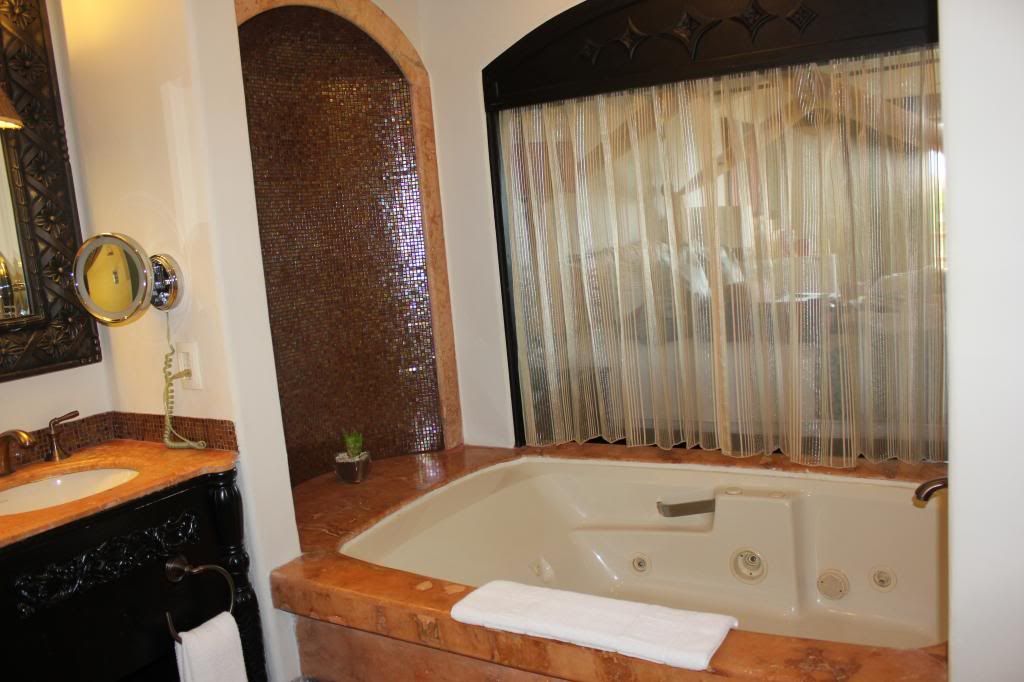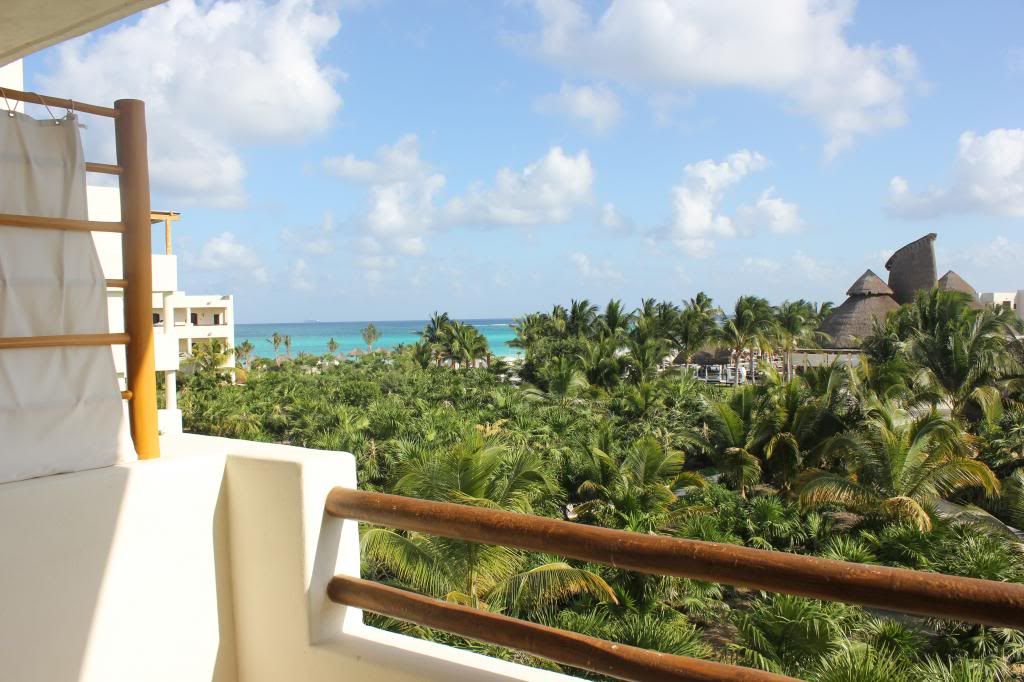 The following pretty much summed up our vacation.
Food
Being an all inclusive resort, we had unlimited food options & availability. All food & drink is included, other than some bottles of wine. Guys, the pico de gallo was
to die for
here. For
breakfast
, we could order room service or visit the 'World Cafe' restaurant for a breakfast buffet. For
lunch
, we had the option of sitting down at one of the restaurants, or they had a poolside grill where you could fill your plate & take it with you to the pool or beach. We opted for the poolside grill most days because clearly we are all about spending as much time as possible pool/beach side. For
dinner
, we had multiple places to choose from inluding a steakhouse, italian, hibachi, french & the world cafe.
I would give Secrets an A+ for food quality. Most everything was delicious. [Not going to lie, we brought peanut butter crackers & breakfast bars just incase]
Beach & Pool Activities
Most of our days were spent relaxing either on the beach or poolside. It was partly cloudy a lot of the time, so we didn't get super tan but we still had such an amazing time. The hotel staff was really personable & made sure there was plenty to do. They had pool & beach volleyball, water aerobics, zumba, darts, dancing ... the list goes on. We prefer to be outside as much as possible while on vacation, soaking up the gorgeous views & warm weather, but if you like to spend time inside they had shopping & a spa.
Evening Entertainment
Once the evening rolled around, we once again had all sorts of options. First we would usually have dinner & drinks at one of the above mentioned restaurants. Then when we finished, just about every night around 9:30 the evening show would begin. The hotel staff gets really into the shows & make them so much fun! We had a Rock Show, a Cirque de Soleil inspired show, a 'Secrets Idol' night[think American Idol], a Fire Show [my favorite!], and a Sensuality Show. On top of those, we also had a 'Love & Marriage' game show that was hilarious. Moral of the story - DO NOT write off the provided entertainment as lame, because these shows were awesome!
Can I just say that our host introduced himself as our 'MC of the night' that's short for Mexicannn Chocolatteee.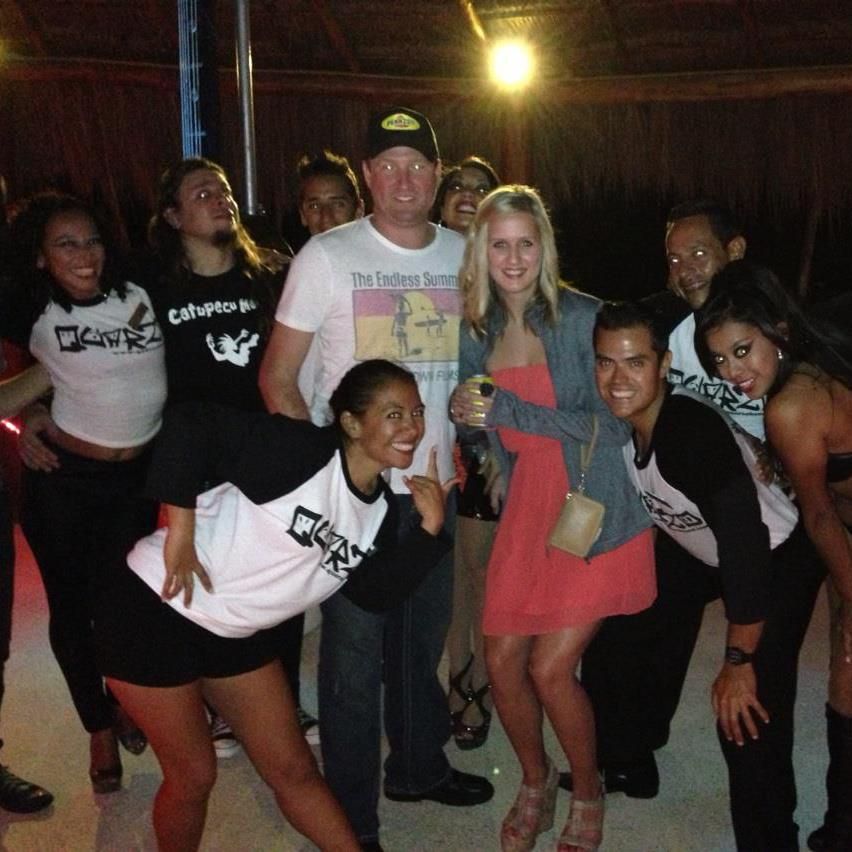 The girl in front was my favorite staffer, Dianna! She rocked.

Once the show of the night ended, they had a 'club' you could go to & listen to music. We went here most evenings to hang out for a while. It was actually very fun even though I am totally not a 'club' person. The staff would get out there & make people dance!
We also had Casino Night one night. I think this was put on special for our tire group, but I'm not sure. We were given fake money to gamble with & then there was an auction afterward. I'm a blackjack girl & Jason is a roulette fan, so we stuck to those two games the most. It was funny because our blackjack dealer had
no freaking clue
how to play the game. So we tried to teach him. It didn't work! Our roulette dealer was better :)
Tips for a tropical vacation
Book all inclusive resort
I can't stress this enough! I am just all for all inclusive resorts. No paying extra for entertainment, food, drinks... the list goes on & on. I've stayed at other resorts that were not all inclusive and eating & drinking gets expensive. Then again, I'm cheap... but check into it at least! Remember though, tip your staff! We tipped our servers that brought us drinks at the pool & beach, our masseuses [we got a free massage], and our hotel maids [because I clean houses & know they deserve a tip!].
Quality of food
Whether you're staying at an all inclusive resort or not, try to check into the quality of food before your stay. You can visit the resort website & facebook page, also review sites such as yelp!. Also when you arrive, see if any restaurants require reservations. At our resort, none required reservations except the hibachi grill which we had to reserve days in advance due to popularity.
Look at reviews online
Yelp!, Facebook, etc. are useful resources. Find out what other people thought of their stay. Also, if you have friends [blog or real life] or family that have been ask their opinions!
Excursions & activities
Plan ahead! Some excursions & activities requrie you to sign up in advance. For example, snorkling offsite, wine tastings, spa, shopping excursions, etc. See if you need to sign up in advance, then once you arrive be sure to reconfirm with your consierge.
Dress code
Most resorts are casual attire, however some restaurants or clubs will require more formal dress, check the resort website in advance to be sure you pack accordingly.
Consider travel time
Flights & layovers can take up a good portion of your day, so if you're booking a 5 day getaway, make sure 2 entire days will not be occupied by travel. Try your hardest to get a direct flight, but sometimes it's just not possible. Pack a small carry-on with a change of clothes if your traveling somewhere tropical where it will be much warmer. Then you can change at the airport if you get warm, or even change once you get to the hotel if your room isn't ready upon your arrival.
I am by no means a world traveler, but so far I've been to a few places.
Dominican Republic - Paradise Island [stayed at Riu Resort next to Atlantis - all inclusive]
Dominican Republic - Punta Cana [stayed at Hard Rock resort - all inclusive]
Puerto Rico [can't remember the name of the resort! it wasn't all inclusive]
and obviously Cancun, Mexico [Secrets resort at Maroma beach]
So far my favorite resort has been Secrets in Cancun. But my favorite place has been Puerto Rico.
What's your favorite international place to travel?
Any tips for planning a vacation you want to add?
Also, can I just say that tonight I'm meeting my best friend for zumba followed by a few of these....
And this is literally the ONLY thing that is going to get me through this long day! And you though I would have had enough margaritas in Mexico... ha!
Linking up with
Shanna
for....
xo
Sam
11 Comments »