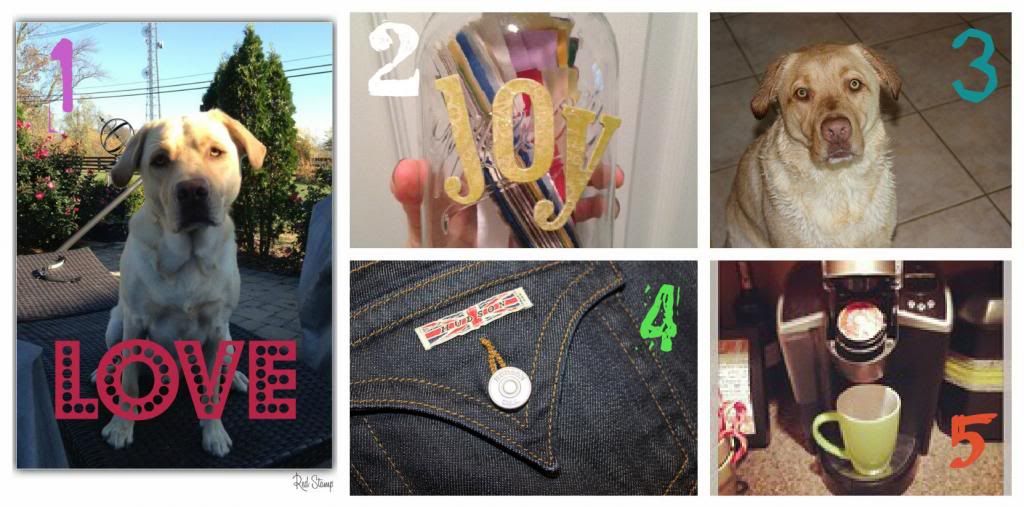 1.) Discovering the app 'Red Stamp'. It's available for Iphone, it's free and it's awesome! Free templates where you can add your own photos. Check it out, you won't be sorry!

2.) Adding my first few memories to my Joy Jar! Read about the Joy Jar here.

3.) A clean dog! How do you other dog mama's do it in the winter? The easiest & least messy way for me to wash Kobe is in the shower with me.

4.) My very first splurge of the year on my very first pair of Hudson jeans! For all you other long-legged bishes out there, they fit like a charm & they are long enough to wear with heels. Yes, they are a splurge. [Trust me, Im usually a thrifting kind-of-girl] Yes I freaked out a little when I bought them. Yes I had Christmas money that I spent on them... But, I love them!

5.) New bright coffee mugs + Donut Shop coffee + my Keurig = morning happiness!

Have you splurged yet this year??
What is your favorite free app that I just have to get??

Linking up with Lauren @FMGD.

Add a comment »