Hey loves. So today is Sunday. Today I could think of zero to blog about. So as I'm sitting here with my cup of coffee (Starbucks blonde roast + hazelnut creamer from home=amazing) & I come across this new link-up - The Sunday Social. So without further adieu...

I'm linking up with Ashley & Neely for...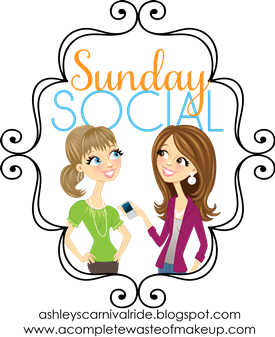 On to today's questions about blogging...
How did you come up with your blog name?
I wanted something that was fun, but also let you know what I did for a living - real estate! I thought the diva part was cute, but ironic because I'm pretty far from a diva in real life. Basically I wanted to show my readers that this is a fun blog where we keep it real, so Confessions of a Real Estate Diva was born.
What is your favorite thing about blogging?
Hmm... I would have to say meeting all of you girls & reading
your
blogs. I love getting the chance to see how other people live in different parts of the country... and guess what? I think we're all alike in some ways. Nobody's life is perfect, but we all manage to make it a good time! I also love taking the time for myself to get my thoughts down, write a fun post, etc.
What is one thing you have discovered because of blogging and now cant live without?
I'm going to make this a two part question...
1.) 50 Shades of Grey! So many of my bloggy friends were obsessed, so I just had to try it for myself. Totally obsessed! Now I'm finished & sort of having withdrawals.
2.) I've taught myself all kinds of web related tricks that I can't believe I didn't figure out before! I love photobucket, for one. You can edit your pictures in so many different ways, convert to HTML, add text, etc. My fave (free) photo editing site for sure!
Facebook or Twitter?
I'm going to have to say... Facebook. But my opinion is biased because I just now gave in to Twitter, so I'm still trying to get into it. I'm sure the day will come once I start to follow all of you little tweeters out there. Ha!
If one celeb read your blog who would you want it to be?
My girl crush. Emma Stone for sure. I just love her. & Zooey Deschanel is a close second.
What is something you want people to know about your blog?
Still sort of a newbie, but loving it. It's real. This is my life, totally NOT perfect, because life is never perfect. I love meeting new bloggy friends & so stop & say hello :)
Now
you
want to link up? Go
HERE

!
Until next time...
xo
Sam
5 Comments »