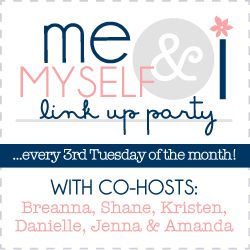 It's just one of those days today!
I was planning to do a post on Kale Chips today, but they were an epic fail.
Sooo... link-up it is.
I have been so tired lately... ever since the time changed.
Anyone else feeling this or is it just me??
Spending the afternoon working from home. Computer work, client Christmas cards, etc... Fun stuff!
How about a little Me, Myself & I...
What are your top 5 movies to watch during the Holidays?
-The Holiday [Love me some Cameron Diaz]
-Elf [Hilarious! Did you know the blonde elf is Zooey Deschanel?]
-Prancer [random, used to watch as a kid]
-Miracle on 34th street
-Random lifetime Christmas movies [Jason is NOT a fan! ha]
It's the month of giving thanks, what are you most thankful for?
-I wrote about this here, but mainly the opportunities life has to offer.
Also, my creativity.
If there was a quote or verse to describe your life, what would it be?
Those are just a few :)
Who in your family are you most alike.
I have a little bit of everyone in me, but I'd say I'm pretty unique.
What is your favorite drink order at Starbucks?
Just one?!
I'd have to say a skinny cinnamon dolce latte.
Good stuff :)
2 Questions for you...
Do you like link-ups? I like them in small doses. I seem to gravitate towards them when feeling lazy ;)
Have you tried Kale Chips? I attempted them today, but when I baked them they didn't seem to get very crispy. Fail. & they stink. Double fail. Ha! Give me your tips.
xo
Sam
Add a comment »