Ladies! Today is... The Messy Project reveal!
Get excited!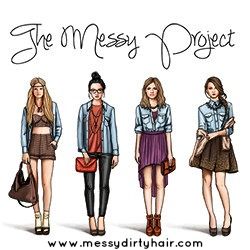 What is The Messy Project??
Created by
Kelly at Messy Dirty Hair,
The Messy Project is a fabulous series in which 5 different girls can showcase their unique, individual style.
Here's the deal:
1 Item.
5 girls.
5 different looks.
1 major blog post day.
Awesome, right?!
I'm all about going out on a limb & trying something new, so I've been DYING to participate in
The Messy Project!
I spent the the beginning of March anxiously awaiting the 'mystery item' to
arrive in the mail from Kelly.
Because let's face it, who doesn't love a good mail day??
Then one day, it showed up! All the way from Cali!
Not going to lie, I was surprised when I opened the 'mystery item' & right away,
my wheels started turning on how I could style this unique piece of clothing...
These pants!
Queen of awkward poses... ahhh!
So, what did I do? I went for a casual look by pairing the pants with a simple blue tank -- the pants are sort of high waisted with a bow belt, so I opted for tucked in.
Then I added simple accessories including a vintage orange necklace, and open toe slingback heels.
I loved the pop of color added with the blue tank & the orange in the necklace...
That whole cobalt/orange trend is happening right now! Right?
This outfit could easily tranisition from lunch with the girls to a quick work meeting -- with the addition of a blazer.
Cool this one is blurry. Awesome.
So what do y'all think??
Are the pants something you would gravitate towards in the store?
I definitely would NOT gravitate towards them, but surprisingly I like them a lot.
Bonus - they are so comfortable, they could totally double as loungewear. WIN.
Be sure to check out the other ladies & how they styled the look!
& of course...
Our host....
xo
Sam
22 Comments »