Lately we have been revisiting the idea of re-doing the kitchen. Right now our kitchen looks a little something like this...

Nope, didn't bother to pick up. Sorry!
There are certain things I like about our kitchen, but there are numerous things I would change. However, with a limited budget, we will address the major issues & go from there.
Likes:
- Overall shape of kitchen, layout of cabinets & appliances.
- Kitchen table
- The fact that we have an island
- Natural light
- Window above the sink
- Storage space
Dislikes:
- Color (mustard yellow sounded like a good idea once upon a time)
- White appliances
- Countertops (currently Formica)
- Cabinets (oak, blahh)
- Cabinet handles
- Our broken sink
- The absence of a backsplash
- Light fixtures
The problem with re-doing a kitchen is that it costs lots of MONEY! Jason & I are talking about a plan of action, and so far here is what we are thinking of doing. We plan to do this in the most frugal way possible without skimping or DIYing something we shouldn't.
We are using these images for cabinet inspiration...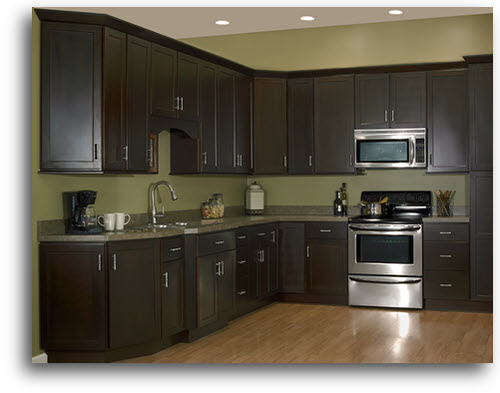 Hopefully the end result looks somewhat like this as far as color goes, obviously our cabinets are not this modern,
but it will still be a drastic improvement.
The Plan:
-
DIY:
Stain cabinets a dark espresso color using
this method
from the blog
Monica Wants It
.
-
DIY:
Replace cabinet hardware with something more modern & sleek.
-
DIY:
Attempt to spray paint existing cabinet hinges to save money.

-
DIY:
Paint the walls a very light gray to brighten up the space.
-
DIY:
Install backsplash, either subway tile or something like this... I do love the chic & clean lines of both, so we'll see.
-
DIY:
Replace light fixtures. Do away with the fluorescent fixture near the island, unless it turns out to be a mess to patch the ceiling, in that case we will just replace with a more attractive option. Replace or paint fixture above kitchen table. Replace recessed lighting over island with hanging pendants.
-
HIRE OUT:
New countertops. Jason really wants granite so this will be one of the big expenses. There is no way we could install this by ourselves, so this will be left to the professionals. We are thinking a lighter color granite on the main countertops, then a contrasting darker color for the island.
-
DIY:
New appliances. Our appliances are functional, but boy are they ugly IMO. Hopefully we will be able to sell them on Craigslist for something though. We plan to replace with stainless steel appliances, and luckily our neighbors retired from GE, so they are sharing their discount with us. Thank you neighbors!
-
HIRE OUT:
New sink. Our faucet is broken right now, but since we are getting new countertops we will have to change out the style of our sink at that point, so we are dealing with it until then. We may do ourselves, but if the countertop installation guys can install, we will just go that route likely.
-
HIRE OUT:
We have the island, which we want boxed in & faced in stone, then we also have the wall with desk area. For this wall, we want to stain the lower cabinets to flow with the rest of the kitchen, but remove the upper cabinets. We want this entire wall faced in stone, and then above the desk area, we want open floating shelves.
For the floating shelves I like the idea of styling with a combination of leaning framed artwork, stark white dinnerware & glassware, & then fun bright pops of color.
-
DIY:
New curtains for sliding glass door.
We haven't gone through an entire budget yet for these improvements, but that is the next step in our plan. I plan on ordering the cabinet supplies first, as I can get started on that project whenever. If the stain is an epic fail, we will rethink our cabinets & go with a painted white finish, but keep the rest of the overall plan intact.
See my Pinterest inspiration board
here.
I will keep you guys updated on progress & our budget once we pull everything together.
Have you ever re-done your kitchen? What was your biggest splurge & biggest save?
xo
Sam
Add a comment »